Lutheran Mission Matters Articles — November 2017
Inside this Issue: Reformation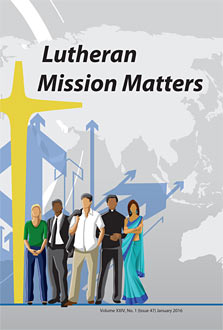 As this issue reaches our readers and well-wishers, the five hundredth anniversary celebration of the Lutheran Reformation will have become history, along with the turn of the new millennium seventeen years ago. Consistent with the Reformer's conviction, "I believe that there is on earth through the whole wide world no more than one holy common Christian church," Lutherans, as they set out at the beginning of the sixth century of the Reformation, have no greater calling than to make known to the whole wide world the true treasure of the Church, that is, the sacred Gospel of the glory and grace of God. On this truth stands the Lutheran Society for Missiology and its premier journal, Lutheran Mission Matters.
It is a sanctified coincidence that on the five hundredth anniversary of the Reformation, Lutheran Mission Matters is publishing its fiftieth issue. Over twenty-five years we have published over 350 essays, 50 mission reflections, and numerous book reviews, representing Lutherans from all continents—respected indigenous scholars, theologians, church planters, pastors, and missionaries. They have one mission: to make Christ known to the world as Savior and Lord.
Christian theology intentionally is a cross-cultural discipline, an adventure that empowers each Christian believer to express the faith, trusting solely in the power of the Holy Spirit, who transforms the lives of people across nations, ethnicities, traditions, and cultures, to call them to faith in Jesus Christ. These expressions of faith truly draw all people from everywhere to the Savior as He is lifted before them as the testimony of God's love in word and in deed (Jn 12:32). God so graciously raises up throughout the world His witnesses for this purpose, baptized men and women who speak His life-giving word to others with gentleness and respect.
We introduce this issue with a homily that Professor Ben Haupt of Concordia Seminary preached on Luther's use of "All," showing that the Reformer was ever missional in his teaching and preaching. We are grateful to the internationally recognized Luther scholar, Professor Robert Kolb, for editing this special issue. Kolb's essay shows that being missional is second nature for Lutherans. Other contributors to this issue are mostly Kolb's colleagues or graduate students. At least five of the essayists in this issue are brand new to the journal, and all of them demonstrate how Luther's way of thinking permeates the majority world and across cultures for the sake of Christ alone. Join us in this great celebration.
The church always reforms. Lutheran Mission Matters always matters.
Victor Raj
Editor
Lutheran Mission Matters
Please note that all articles posted on this website and downloadable in PDF format are
"Copyright 2017 Lutheran Society for Missiology. Used by permission."
Please include the above statement in any printed reproduction of an article.


Inbox
Heath R. Curtis - Coordinator for Stewardship, LCMS Office of National Mission
Dear Editor,
In the eight years of the Obama administration, the US went from being 78% Christian to 71%. The last time the LCMS saw a year to year gain in baptized membership, the Supreme Court was deciding Bush v. Gore and A. L. Barry sat behind the desk in Kirkwood. The ELCA, UMC, UCC, and Presbyterians are faring even worse. These facts and the questions they raise are what led the Stewardship Ministry of the LCMS' Office of National Mission to commission two scholars to study the demographic and cultural context of the Missouri Synod.
I want to thank Prof. William Schumacher for his essay offering his analysis of these demographic reports which were published in the Dec. 2016 issue of the Journal of Lutheran Mission; and I also thank you for publishing it. In this letter I hope to offer some clarifications that will further the efforts of your readers as they make plans for the future of their ministries in the challenging cultural landscape of today's America.
Response: Mission and Denominational Decline - William W. Schumacher
After I offered a few comments (available here: http://www.lsfm.global/uploads/files/LMM_5-17_Schumacher.pdf) in response to the December 2016 Special Issue of the Journal of Lutheran Mission (JLM) (available here: https://blogs.lcms.org/2016/journal-of-lutheran-mission-december-2016), the conversation about demographic studies of The Lutheran Church—Missouri Synod and their relation to mission and evangelism has continued. In particular, Rev. Heath Curtis, a pastor in southern Illinois and the LCMS Coordinator for Stewardship, has written a direct response to my comments (available here: https://blogs.lcms.org/2017/synod-demographic-studies-offer-insight-despite-critiques), and his response helpfully clarifies some points. Those who are interested in the topic and the discussion should also read the helpful contribution of Rebeka Cook and the additional material from the authors of the original reports in the Dec. 2016 JLM (all available here: https://blogs.lcms.org/2017/journal-of-lutheran-mission-march-2017).
I had not expected to write further on the subject, since I think my original comments and concerns were sufficiently clear. But I will offer just one or two remarks to Rev. Curtis, since he singled me out in his blog post on the LCMS website.
Sermon
Paul's Alls, Luther, and the Discovery of America - Ben Haupt
Introduction: Grace, mercy, and peace to you from God our Father and from our Lord and Savior Jesus Christ. Amen.
Do you look at strangers when they walk past you? There are a lot of people in our world today, and sometimes it's just easier not to look people in the eye when they walk past you on the chapel plaza. It's even worse when I'm getting on a subway in New York City or London. When there's just a sea of people, it's sometimes easiest just to put my earbuds in, keep my head down, and shuffle along. Obviously I'm not going to get to know every person I walk past or stand next to in a subway or wait in line with at an airport. It's impossible to have personal relationships with seven billion people, and so I admit that sometimes I just shut them out.
This is a chapel sermon preached on October 25, 2017.
Articles
Luther's Teaching and Practice Regarding Believers' Confessing of the Faith and Witness of Christ - Robert Kolb
Abstract: The history of the Lutheran churches reveals a consistent interest in and commitment to mission from the sixteenth century on even if initially the churches in central Europe had little or no means for pursuing sending missionaries overseas. The theological commitment to mission, however, was taken for granted by prominent teachers of the Lutheran churches. Luther's theology, centered in the Word of God as the instrument of God's saving power, emphasized that witness to the gospel and the sharing of the message of forgiveness of sins in Christ was the calling or duty of every baptized believer. This takes place, he believed, in "Christian" societies but also outside those societies when it is possible for believers to give such witness there. His own practice reached out to lapsed church members as well as Jews, the only group outside the faith that existed in the German lands at his time. He was always sensitively translating the faith culturally as well as linguistically for his hearers and readers. The Augsburg Confession also was issued to confess the faith to others within the household of faith in line with the Wittenberg conviction that believers are always to give witness to Christ.
Six Theses on Luther's Sense of the Mission of God - Robert Kolb & (tr.) Marcos Kempff
1. Luther understood the Word of God to be the foundation of reality and the instrument of the ultimate power of the Creator.
2. Luther believed that Baptism brings with it the call to every child of God to be agents who deliver God's life-giving Gospel in the forgiveness of sins to others.
3. Luther believed that Christians give witness to those outside the faith as well, even though most of his followers in the sixteenth-century central, eastern and northern Europe had little or no occasion to meet unbaptized individuals.
4. Luther put this conviction regarding Christian witness to Christ into practice to the extent possible in his "Christian" culture.
5. As the consummate translator, Luther recognized the importance of faithfulness to the text of Scripture and sensitivity to the ever-changing context in which God has placed his human creatures as historical beings.
6. The Augsburg Confession represent Philip Melanchthon's presentation of the Wittenberg theologians' conviction that they had been given God's Word in order to share it with their flock, with the household of faith, and with the world.
Lutheran Society for Missiology (LSFM) Banquet
www.lsfm.global
Rev. Dr. Robert Kolb
Concordia Seminary, St. Louis
January 25, 2017
View these Six Theses in English and Spanish
"The Giant That Couldn't Sleep": An Active Theology of Missions as Derived from the Lutheran Confessions - Glenn K. Fluegge
Abstract: Some have described the Lutheran Church as a "sleeping giant." The implication would seem to be that the Lutheran Church is gigantic when it comes to theology but relatively inactive when it comes to missions. One could make a good case against the caricature itself, but the purpose of this essay is to ask a more fundamental question: Can this giant even sleep? I argue that it cannot and set out to develop a two-dimensional theology of missions as derived from the Lutheran Confessions that is categorically active and very much alive. It focuses on the mission of the Triune God (vertical dimension) which flows naturally into the mission of the Church (horizontal dimension).
Where Are You? The Question That Drives the Scriptures - Henry Rowold
Abstract: In Genesis 3, we read the tragic attempt by Adam and Eve to free themselves from the lordship and fellowship of God, followed by the judgment of God. God's first response, though, is a question, The Question: "Where are you," which reveals that God still seeks His wandering children. Indeed, The Question provides a fundamental thread for reading the subsequent record and history of the Old Testament—and on into the New Testament. This article notes key turning points in that history where The Question is pursued, and indeed The Question becomes a quest by God, to redeem His scattered children.
Christian Ministry Across Cultures: "Not by Birth But by Rebirth" - Victor Raj
Abstract: This essay proposes that "missiology is theology done right," a theme I am working further on in the form of a book. Christian mission is founded on Scriptural warrant that all human beings may know that Jesus Christ is God's Son and those who believe in Him will have eternal life. To make this truth known to the whole wide world, God has set part a people, a holy priesthood, and a prized possession for His mission. All institutional churches and church establishments are the products of the missionary activities of the past. In the modern era, Christian theologians have acknowledged that missiology is the mother of theology. Revisiting the Christian Church's history and theology enables Christians of our time to return to their roots, to the Lord Christ who sends them out into the world on His mission. Mission is nothing other than God's heart reaching out to those who are lost in sin and death, offering them forgiveness, life, and salvation in His name. God's mission has no boundaries.
IBM and the LCMS: Walking the Reformation Pathway - Michael W. Newman
Abstract: International Business Machines Corporation, IBM, Big Blue—by the early 1990s the technology giant and marketplace dominator was tanking. Reeling from a proliferation of PC brands, a tech start-up revolution, and internal cultural paralysis, the once-powerful mainframe computer innovator found itself on its heels. Experts predicted imminent collapse.
That's when Louis V. Gerster, Jr. was invited to take the helm as CEO of IBM. Gerster had no tech industry credentials but was a proven growth and change agent as CEO of American Express and RJR Nabisco. Answering the call to lead a dying business behemoth did not qualify as an item on his career bucket list, but this was IBM. It was more than just another resident occupying the crowded and transient neighborhood of worldwide industry. IBM was an American institution. This was more than just a job; it was a mission. So Gerster decided to accept the position. (Abstract continues)
Quincentennial Celebration: The Paradigm Shift from Martin Luther Then to Ours Now—Part Two - Enoch Wan
Abstract: Based on significant global trends that affect the mission of the kingdom of God, the Lutheran Church is encouraged, first, to be engaged in a shift from traditional missiology to a multilinear, multidirectional missiology and multiethnic ecclesiology. Further, in light of diaspora communities literally "at our doorstep," a "diaspora missiology" understands not only missions "to" the diaspora, but also "through," "by and beyond," and especially "with" such communities as full partners in mission. Finally, Dr. Wan articulates a "relative realism" paradigm that counteracts the cultural relativism and mistrust of institutions that dominate the mission context and that restores an authentic Christianity based on our relationship with God and then with one another as human creatures. This leads to practical implications for Gospel-driven mission within the realities of a changing social-cultural and technological context.
View Part One and Two Combined Online
Lutheran Presence at the First Protestant Christianity in South Travancore - Damodharan Christudas
Abstract: Protestant Christianity in Travancore has a unique history different from other missions in India. The Eastern (Syrian) Orthodox and the Roman Catholic Christians first came to India as immigrant communities and multiplied primarily through biological reproduction. Protestant Christianity however was a missional movement, proclaiming Jesus Christ as Savior among indigenous peoples. The Protestant mission movement in India began especially with the entrance of Bartholomew Ziegenbalg in Tranquebar in 1706, a Halle Lutheran Missionary. The existing histories about the origin of the Protestant Christianity in Kerala hardly mention this fact. Before the arrival of the London Mission Society in 1812, Protestant Christians were working already in Travancore as an extension of the Tranquebar mission. Historians of Travancore Protestant Christianity so far have only acknowledged the origin of Protestant Christianity in Kerala with the Rev. Vedamanickam of Mylady. That story however is very selective. This study is an attempt at re-reading the Travancore Christian mission history for the purpose of showing a clear connection of Lutheranism with the first Protestant missionary efforts in Travancore.
De Roma . . . a Wittenberg . . . a USA - Miguel Darío Sanabria & (tr.) Marcos Kempff
Abstracto: El Reverendo Miguel Sanabria, oriundo de Colombia, describe su camino en la fe desde sus días como seminarista Católico Romano, luego su ordenación como sacerdote hasta llegar a ser pastor luterano. Hoy sirve en la Bahía de Tampa, Florida, en un ministerio misionero entre la población Hispana. Sus experiencias nos muestran cómo Cristo, tan claramente destacado en la Reforma Luterana, transforma la mente y el corazón de un siervo de Dios.
Abstract: Rev. Miguel Sanabria, originally from Colombia, describes his spiritual journey, first as a Roman Catholic seminarian, then as an ordained priest, and finally as a Lutheran pastor. Today he serves as a pastor-missionary in the Tampa Bay area, serving within growing Hispanic communities. His experiences illustrate how Christ, so clearly demonstrated in the Lutheran Reformation, transforms the mind and heart of God's servant.
Mutual Hierarchy as a Framework for Ecclesiology - Jeffrey A. Dukeman
Abstract: This article first briefly argues for the preferability of a mutual hierarchy framework over both the hierarchical framework of Hans Urs von Balthasar and the egalitarian framework of Miroslav Volf for the doctrine of the Trinity. Building on this Trinitarian foundation, it then advocates mutual hierarchy in ecclesiology, particularly in three ecclesiological areas: the relation between a pastor and a congregation, trans-congregational relations, and relations between the church and the mission field. The paper concludes with some questions for discussion in these three ecclesiological areas in the context of the LCMS today.
Encountering Mission
Rejuvenating the Lutheran Identity in India: Indian Christians Meeting Luther Five Hundred Years after the Reformation - Sony Lawrence
Abstract: Archival research on MELIM (Missouri Evangelical Lutheran India Mission) invites contextual reading on the co-religions of Hinduism, Islam, and Christianity, on the social situation of outcaste or pariahs of whom MELIM reached most of its followers, and the political transition from nineteenth- to mid-twentieth-century colonial and monarchial rule of subjects to the governance of citizens post Independence in 1947. How MELIM advanced God's Mission in this context from 1895 amidst human rights, information diffusion, and identity politics, stems from the prior 190 years of Danish and German Pietist Lutheran mission which started in Tranquebar in 1706.
God's (and the Church's) Mission: Is It a Matter of Pleasing Consumers? - Gerson L. Linden
Abstract: God's mission to save the world through Jesus Christ involves the Church as the instrument for the proclamation of the Gospel. For the accomplishment of the task, people have to be targeted in a meaningful way. Such has been the preoccupation of the Lutheran Church, also in Brazil. However, a new religious movement begun in the second half of the twentieth century, known as "Neopentecostalism," tends to work as a market offering religious products to the people, treated as consumers. This article assesses the strategies of a Brazilian denomination, the "International Church of God's Grace" as representative of such an approach.
Missouri's Mission with Hispanics in the United States—a Half-Century Critique: The Good, Bad, and Possible - Douglas Groll
Abstract: Invited to share reflections on Hispanic ministry in the Missouri Synod over a fifty year ministry the author is in intent on showing that a great deal of progress has been made in Hispanic ministry as God has blessed dedicated individuals and families in raising up ministry to and with Hispanics in congregational leadership formation and literary productivity. At the same time, the Synod and its administrative units on district levels are judged sorely deficient in recognizing their own internal blindness to systemic cultural premises which have insisted on Anglo economic and administrative superiority and their consequent marginalization of ethnic and specifically Hispanic ecclesial needs. The article suggests that Hispanic and other ethnic minorities within the Synod present a possible "teaching moment" for the Church to recapture its identity as a "people in exile" under God's eternal blessing instead of an institution in decline that must hold on to its power and control at all costs.
Johannine View of Persecution and Tribulation - Wang Lian
Abstract: In this article, I address persecution and tribulation from a Johannine perspective. The fourth Gospel emphasizes the importance of being prepared for suffering through its use of διώκω (diokō) and θλϊφις (thlipsis). John gives more attention to Jesus' passion than the Synoptics. The mention of persecution and tribulation is an important one in the Johannine epistles, as well as in Revelation. This article mentions five areas of Johannine theology observed from John's writings: persecution based on hate, persecution associated with the world, persecution and the Holy Spirit, persecution foretold by Jesus, and Jesus Christ's example in persecution and suffering.