Lutheran Mission Matters Articles — May 2016
Inside this Issue: Missiology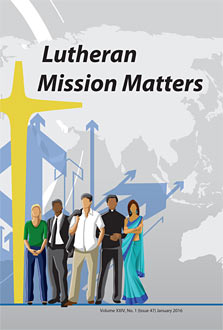 Why are we devoting an issue of Lutheran Mission Matters to something called "missiology"? Most Christians and, I am bold to say, most Lutherans have no idea what that word means. The term is not in the Bible. It doesn't matter. An understanding of "missiology" is crucial for the church today. In this issue some of the most expert missiologists will show you why.
According to Dictionary.com, missiology is "the area of practical theology that investigates the mandate, message, and mission of the Christian church, especially the nature of missionary work." Maybe it would just be easier to say that missiology is the study of the theory and the practice of mission, important for Christians involved in international mission work and, increasingly, for work in North America.
The articles in this issue cover a wide range, from Dr. Gene Bunkowske's article on the biblical basis of mission to Victor Raj's observations on the missiology of the India Evangelical Lutheran Church; from Andy Bartelt's correcting crucial misunderstandings about contextualization to Richard Gahl's overview of the change in missiology in The Lutheran Church–Missouri Synod.
Gahl's article is timely because it looks at a substantive change in the mission theory and practice of a major Lutheran denomination. Following the administrative restructuring of the LCMS, mandated by the 2010 convention, thirty of the top leaders of the Church's mission department were let go. They were told by the new administration, "We intend to go in a different direction." What is that direction? How is it different from the previous one?
My article advocates that "ecclesiology," the study of church, has to remain the servant of "soteriology," the study of salvation. When church becomes an end in itself, it diverges from its mission, which is to bring the eternal love of God shown in the life, death, and resurrection of Jesus. This happens as the church participates in "witness, mercy, and life together."
Rev. Gregory P. Seltz, the Speaker for the Lutheran Hour, shares his thinking about urban missiology; Mark Koschmann and Theodore Hopkins describe how an urban congregation understood systemic issues facing their city as a crucial element of urban mission work; and Rev. Dr. John Nunes, the newly elected president of Concordia College New York, shares his ideas about the relationship between martyria and mission work. Michael Von Behren addresses the role of laity in missions and the thinking behind the need for licensed deacons.
Then there are the general challenges to mission work in North America. Professor Scott Yakimow's concern is how we approach the "nones" and the "dones," those who have made conscious decisions to stay away from Christianity and religion in general. How can we approach them with the love of God? They probably are not going to walk into a church looking to become members. It has been said that if a community was starving to death and a warehouse filled with bread was nearby, but nobody let the word out, that would be loveless. Yet so many churches have something much better than physical bread but do not believe it is their business to go outside the walls of their church to share it. The unspoken message is, "This church is for the members." Wouldn't you say that was loveless?
The authors of these articles have made it a point not to focus on any particular individuals, but rather to assess mission thinking and practice in North America at the beginning of the twenty-first century. We invite your comments and your prayers.
Robert Scudieri
Editor for the Missiology issue
Lutheran Mission Matters
Please note that all articles posted on this website and downloadable in PDF format are
"Copyright 2016 Lutheran Society for Missiology. Used by permission."
Please include the above statement in any printed reproduction of an article.


Articles
An Examination of Strategic Mission Plans Before and After 2010 - Richard Gahl
Abstract: Given that it has been five and a half years since the restructuring of the LCMS it is appropriate to ask: How goes God's mission in the LCMS? Rather than gathering opinions for a variety of interested participants and observers, this article has chosen to narrow its focus to the comparison of two strategic mission plans. The first is the Balanced Focus Plan of the Board for Mission Services dated 2007. The second is the first strategic plan for the new Board for International Mission dated 2014, Consolidate, Focus, Renew and Establish Partnerships. There are a number of significant differences in the two strategic plans: governance models, questions about who does the mission (Is it all baptized Christians or just pastors?), and worship practice in the mission field. A primary concern, however, is the state of relationships between the LCMS and partner churches across the globe. In a word, there is much work to be done before relationships deteriorate even more.
International Partnerships: A Reflective Assessment - Paul Mueller
Abstract: Navigating collaborative relationships involved in effective and successful international church partnerships requires knowledge learned through study, as well as experience gained through years of practice. This article attempts to define an appropriate approach to international partnerships and then identify some of the difficulties encountered as those partnerships are developed and maintained.
Keeping Our Balance in Our Own Context: Keeping the Cross in Cross-cultural and Taking the Con Out of Contextualization - Andrew Bartelt
Abstract: The dialectic between theology and culture and its subtopic "contextualization" provide a case study that shows how Lutheran theology properly holds theses in a "both/and" tension, as well as identifies antitheses that need to be called out as aberrant theology and practice.
Celebrating the Ministry of Licensed Lay Deacons: A Theological Review of the Task Force Report on 2013 LCMS Convention Resolution 4-06a - Michael T. Von Behren
Abstract: This article provides a theological review of the Task Force Report on 2013 LCMS Convention Resolution 4-06a from the perspective of those who seek to support the ongoing ministry of Licensed Lay Deacons in the LCMS and to encourage fuller appreciation of the complementary nature of the role of both pastors and laity in service of the Gospel. It affirms aspects of The Report, while responding to The Report's critiques of Licensed Lay Deacons used in Word and Sacrament ministry by relying on the same fundamental theological sources as the Task Force Report, namely scripture, the Lutheran Confessions, and C. F. W. Walther's Church and Ministry.
"Here Is the Church, Here Are the People . . .": Ecclesiology Is the Servant of Soteriology - Robert Scudieri
Abstract:The point of this paper is "Ecclesiology must always be the servant of soteriology." When this becomes altered, or confused, or worse, reversed, there are severe consequences. The Reformation came about because by the sixteenth century this had become reversed. In this article, I trace the history of one denomination's struggle to keep ecclesiology in the service of the sharing of the saving gospel. It is a history of triumphs and failures, as it would be with any earthly institution.
Faithful Witness in Wounded Cities: Congregations and Race in America - Theodore J. Hopkins and Mark A. Koschmann
Abstract: Race and racism are urgent matters for the church to address, particularly in the urban centers of the United States. In the last couple of years, a gaping wound has been opened in the middle of American cities. These wounds are evident in New York, Minneapolis, Chicago, Cleveland, Baltimore, Saint Louis, and many other cities across the country. In these places, it is becoming ever clearer that race and racism cannot be ignored. If this is true on a pragmatic, political level, how much truer is it theologically? After all, Christ has called His church to consist of people of all colors and ethnicities, and Christ has called His church to mission in the urban centers of North America. In view of this reality, this paper argues that faithful mission and ministry in urban settings requires congregations to contextualize the gospel, by addressing race in their public ministry, and we describe such faithful ministry with an historical example of First Immanuel Lutheran Church in Chicago.
Martyria and Mission: The Witness of Creative Disruption - John Nunes
Abstract: God's mission, introducing a realm of holiness and forgiveness, cannot enter the unholy realms of this earth without some interruption to business as usual. There will be some scraping of structures, some reordering of priorities, turning some systems upside down. This article defines this missional activity as creative disruption. It suggests that creative disruption functions best when it is creative, with respect to tradition and disruptive with respect to traditionalism. While leaders committed to stirring up the status quo are often unpopular and inheres sacrificial witness (martyria), this article addresses some of the constructive benefits of disruptive work to God's mission.
Confessing the "Real Present Jesus": The Power to Overcome Cultural Barriers with the Good News of the Gospel - Gregory P. Seltz
Abstract: When the church confesses the incarnate nature of the Gospel message, what are its implications for mission work? What are the implications for the proclaimer as well as the hearer? If the Gospel message is not merely a "teaching of religious dogma" but an encounter with the one who saved and redeemed you, what does this say about the nature of our "confession of the faith?" This article will explore the sacramental gospel and its implications for mission by examining the sociological implications derived from incarnational, sacramental theology and by critiquing such sociological implications in light of the nature of the sacramental word.
Signs of Transformation: Communicating the Gospel in an Age of Nones and Dones - Scott Yakimow
Abstract: The Church is confronting an emergent phenomenon in populations described as the "nones" and the "dones," that is, those who have never been religiously affiliated and those who became disenchanted with their church home or with "organized religion" and left. Both display new epistemological challenges to the Church because of the lack of a shared cultural common ground. Some argue that what is needed is a better apologetics to arrive at a shared ground to demonstrate the unreasonableness of unbelief. Others eschew apologetics for a purely proclamatory approach, believing that presenting the faith directly carries with it its own power. The first is an objectivist approach and the second, a subjectivist. In this article, I argue that both approaches have valid concerns but that both also fail epistemologically. Instead, I propose a semiotic epistemological model via an understanding of triadic signs that both shows the futility of such an objectivist/subjectivist dichotomy, while taking into account their valid concerns, and opens new avenues for restructuring our understanding of outreach with the Gospel, particularly to the nones and the dones.
The Biblical Nature of Mission: God's Mission in Action - Eugene Bunkowske
Abstract: Professor Eugene Bunkowske, a founder of The Lutheran Society for Missiology, reviews the basic biblical characteristics of Christian mission. He shows how mission is a process, one that started with God and is ongoing. Mission is an expression of God's love for humanity; it shows His desire to bring all peoples to Himself, to live with Him for eternity. To do this He lowered Himself to become a part of the human context, using images, actions, and words relevant to human minds. This process goes on—we do not generally preach in Aramaic in a country, unless it is understood. Martin Luther contextualized the Word of God when he translated that Word into German. The process goes on. God became a human being to contextualize His love. Several basic biblical characteristics are reviewed in the article, and an illustration application is made to a specific context.
Scattering for Gathering - Victor Raj
Abstract: Scattering for Gathering is one of the numerous biblical paradigms for mission. In this brief essay, I summarize several conversations I have had with some church planters and pastors in India who began their ministry as catechists. Some of them already planted congregations before they entered the seminary for formal theological education and pastoral formation. While serving as pastors, these men encourage and empower gifted people and their families to reach out and plant new congregations. Patterned after the apostle Paul (e.g., 1 Cor 3:16–18), they believe that one person plants, another waters, and God gives the growth. God scatters His people wherever He will so that by His word He draws all people to Himself.
I Will Build My Church - Rev. Dr. William Utech
A chapel sermon on Matthew 16:13-18
MNS Collaborate Conference, St. Louis, MO January 20, 2016